Une cigar-box guitare découpée au laser
À la place de télécharger de la musique, téléchargez une guitare
La SEMIOLO3 est la première cigar-box guitare électrique suisse open-source, créée de toutes pièces en découpe laser par NOTsoNOISY GUILLAUME REYMOND. Les découpes de prototypes ont été réalisées avec l'aide de CHARLY PACHE au FABLAB-FRIBOURG. C'est une « semi-hollow » (caisse à moitié vide) avec un diapason court de 495mm. Elle se joue comme une GUITARE CIGAR-BOX à 3 cordes (accordées Sol Ré Sol).
INSTEAD OF DOWNLOADING MUSIC, DOWNLOAD A GUITAR
ENGLISH translation : The SEMIOLO3 is the first Swiss open-source electric cigar-box guitar, created for laser cutting by NOTsoNOISY GUILLAUME REYMOND, with the help of CHARLY PACHE from the FABLAB-FRIBOURG. This is a « semi hollow » body with a special short scale of 495mm. It's playable like a CIGAR-BOX GUITAR with 3 strings (tuned GDg).
( DESIGN )
Le corp et le manche sont réalisés avec 39 pièces découpées au laser dans un panneau de MDF de 5mm. Les plaques de protection et de sortie de jack sont coupées dans du plexiglass noir de 3mm. Il faut également 3 mécaniques d'accordage de guitare électrique, un chevalet métallique pour 3 cordes, un micro de guitare pour 3 cordes (déjà câblé avec une sortie jack), quelques vis, de la colle à bois rapide et des cordes bronze de guitare folk. LES FICHIERS SONT TÉLÉCHARGEABLES sous licence Creative Commons, afin que vous puissiez réaliser votre propre instrument dans un FABLAB et en jouer directement après.
Cette guitare/ukulélé électrique est le 4e modèle en découpe laser qui a été créé après la « PIRATE'S GUITAR« , la « IXTRIM4 » et la « ESDGI4« .
( DESIGN )
The body and the neck are made of 39 pieces cut with a laser cutter in one peace of 5mm MDF. The pick guard and output jack plate are cut in one piece of 3mm plexiglass. You need also 3 tuning pegs, a 3 strings metal bridge, a 3 string guitar pickup (wired with an output jack socket), some screws, a fast wood glue and some bronze folk guitar strings. THE FILES ARE DOWNLOADABLE under Creative Commons License, so you can build your own instrument in a FABLAB and play it directly afterwards.
This electric model is the 2th model of the series with the « PIRATE'S GUITAR« , the « IXTRIM4 » and the « ESDGI4« .
( PLANS )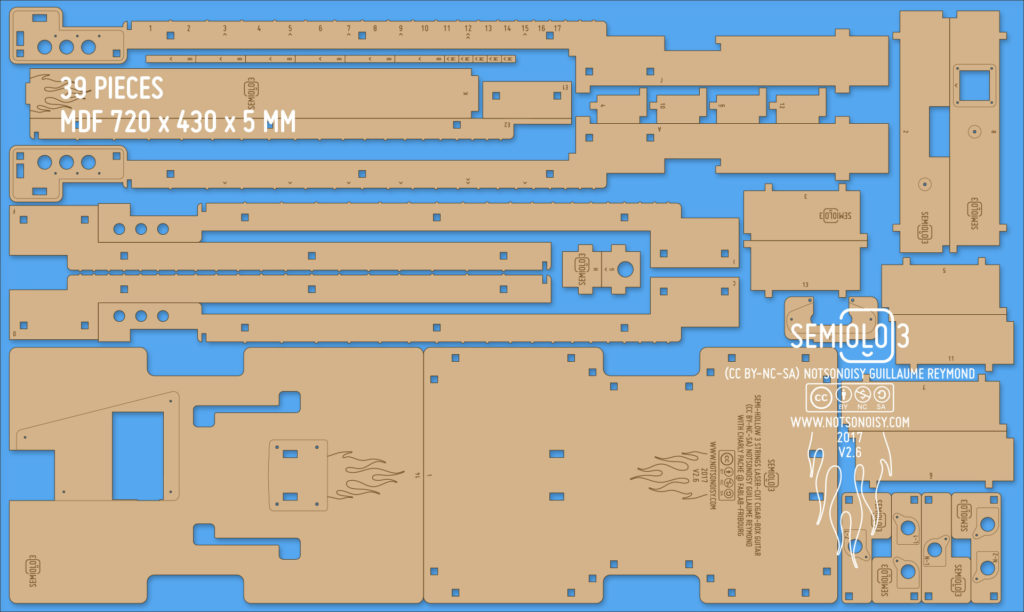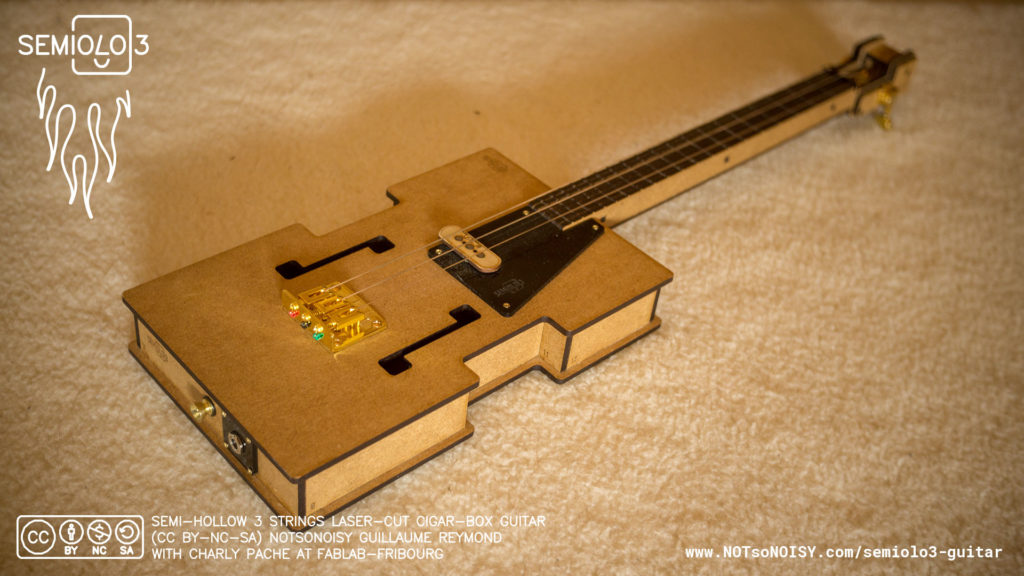 Cette guitare/ukulélé est le premier modèle de la série
This electro acoustic is the first model of the series
Cette guitare/ukulélé est le 2e modèle en découpe laser qui a été créé après la « PIRATE'S GUITAR« , la « SEMIOLO3 » et la « ESDGI4« 
This electric model is the 2th model with the « PIRATE'S GUITAR« , the « SEMIOLO3 » and the « ESDGI4« 
BESOIN D'AIDE POUR MONTER VOTRE PROPRE GUITARE ?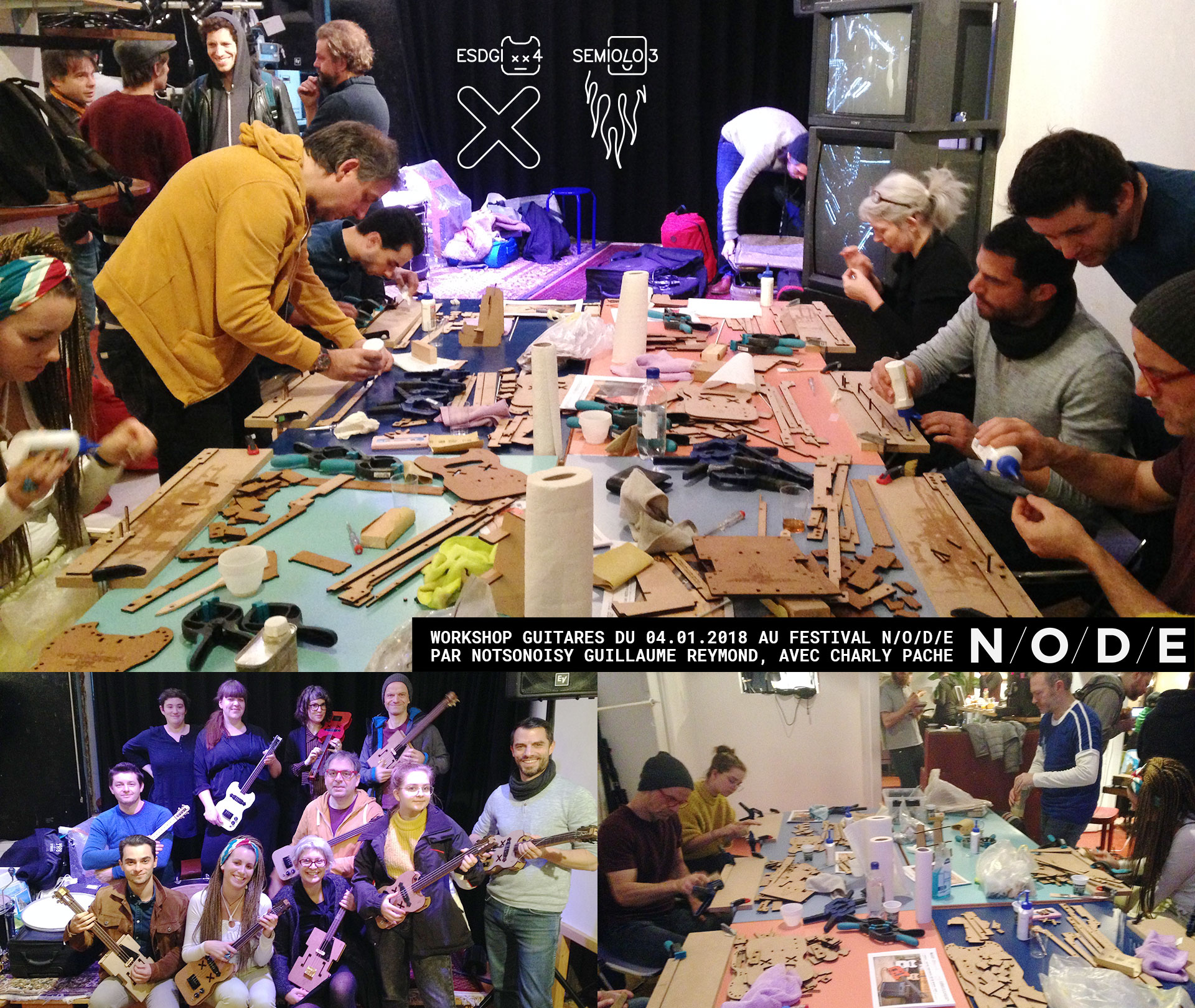 ( ATELIERS )
Retrouvez la liste des ateliers à venir sur la page >WORKSHOPS
( EVENEMENTS/TEAM BUILDING )
Nous sommes également disponibles pour organiser différents workshops, pour votre école, votre entreprise (team-building ou événements), votre Fablab,… >CONTACTEZ-NOUS
( credits )
Design by NOTsoNOISY GUILLAUME REYMOND
www.notsonoisy.com
at FABLAB-FRIBOURG www.fablab-fribourg.ch
/ Made in Switzerland
The files are downloadable for personal use under
Creative Commons Attribution – NonCommercial – ShareAlike 4.0 International License
(CC BY-NC-SA) NOTSONOISY GUILLAUME REYMOND
• CREDITS ATTRIBUTION
• NON COMMERCIAL USE
• SHARE A LIKE
OUR SOFTWARE AND FILES ARE PROVIDED TO YOU « AS IS ». WITHOUT WARRANTY OF ANY KIND, EXPRESS OR IMPLIED, INCLUDING BUT NOT LIMITED TO THE WARRANTIES OF MERCHANTABILITY, FITNESS FOR A PARTICULAR PURPOSE AND NONINFRINGEMENT. WE EXPRESSLY DISCLAIM ANY LIABILITY WHATSOEVER FOR ANY DIRECT, INDIRECT, CONSEQUENTIAL, INCIDENTAL OR SPECIAL DAMAGES, INCLUDING, WITHOUT LIMITATION, LOST REVENUES, LOST PROFITS, LOSSES RESULTING FROM BUSINESS INTERRUPTION OR LOSS OF DATA, REGARDLESS OF THE FORM OF ACTION OR LEGAL THEORY UNDER WHICH THE LIABILITY MAY BE ASSERTED, EVEN IF ADVISED OF THE POSSIBILITY OR LIKELIHOOD OF SUCH DAMAGES.
( Fichier à télécharger )
Téléchargez les fichiers qui vous permettront de faire la découpe laser et les impressions 3D de toutes les pièces sur ( tout bientôt )
( File to download )
Download the files needed to laser cut and 3d print all your pieces on ( very soon )
( SUPPORT OUR PROJECTS )

THANK YOU FOR SUPPORTING US WITH A DONATION > paypal.me/notsonoisy for all the hours of work needed for this project. If we have enough gifts, we will be able to work on other original creations. (10-100$ according to your means and according to the pleasure you have to mount our stuff)[wp_paypal_payment_box_for_any_amount email= »music@notsonoisy.com » description= »Donate to support the NOTsoNOISY laser-cut guitar projects » new_window= »1″ other_amount_label= »Your donation: »]
( MATÉRIEL À ACHETER
/ STUFF YOU NEED TO BUY )
( Plaque de MDF 

/ MDF WOOD ) 

720 x 430 x 5mm


( PLEXI NOIR 

/ BLACK PLEXI ) 

A5 3mm


( Tige filetée M5 + rondelles + boulons dorés

 / Threaded rod M5 + washers + gold/brass bolts )


( Colle à bois rapide

 / Fast wood glue )




( CORDES 

/ STRINGS )

 D'addario Acoustic Guitar 

Flat Tops Phosphor Bronze EFT17 .013-.056 Medium Gauge


( CORDIER

 / BRIDGE ) 

3-string Gold

 Hard-tail Bridge
( MICRO 

/ PICKUP )

 3-string Cigar Box Guitar Pickup
( MECANNIQUE 

/ TUNING PEGS )

 Guitar Tuning Pegs 3R3L Gold
( BOUTONS SANGLE 

/ STRAP LOCK )

 Strap Locks Button